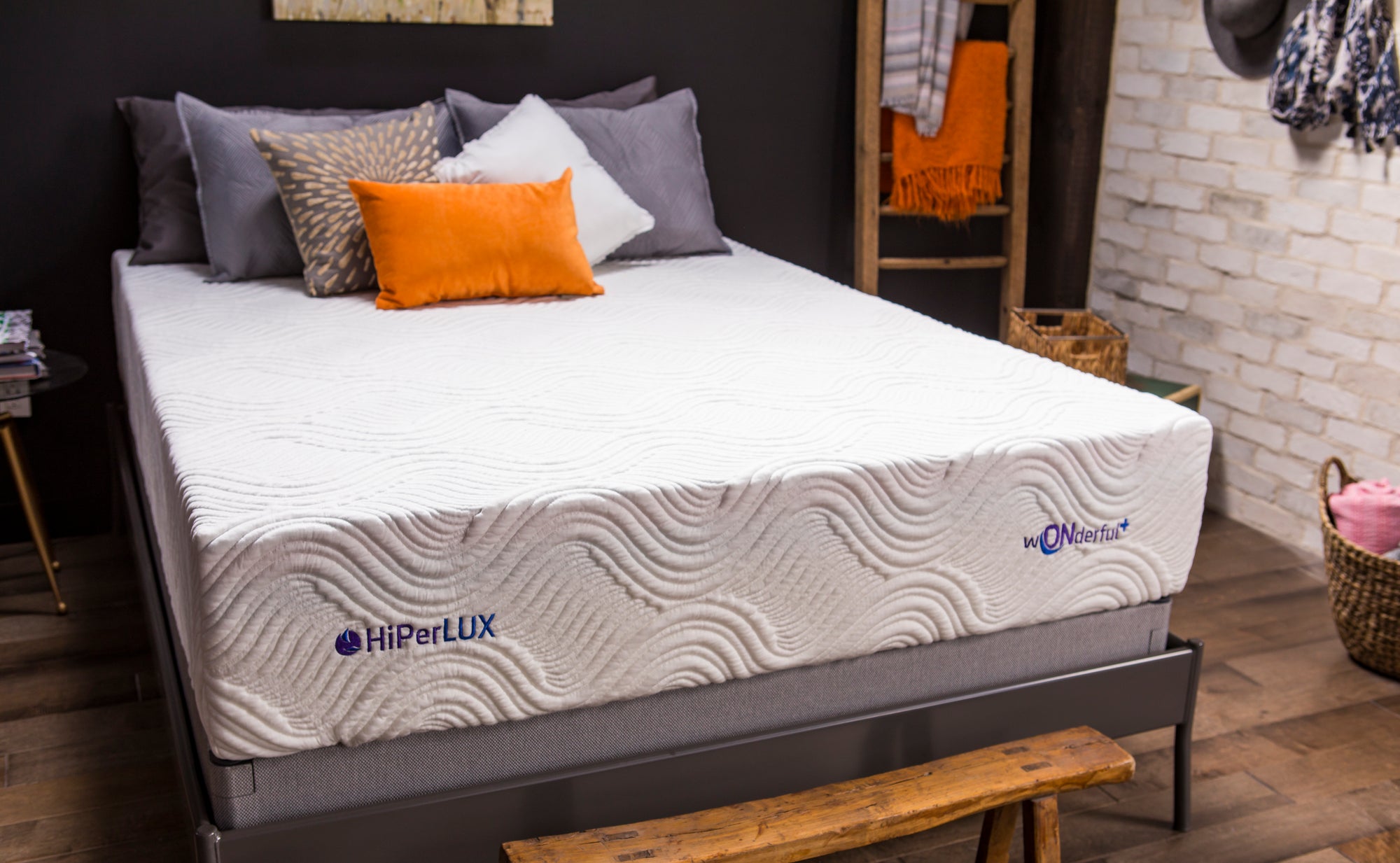 wONderful+ Luxury XFirm Mattress Better Sleep Bundle
Previous
HiPerLUX
The perfect combination of Firmness, Pressure Relief and Support for those that prefer to be more "ON" the bed.  The wONderful+ utilizes the newest UltraCool phase change technology matched with our Tencel Biometric Stretch cover.  Biometric flex foam gives you the floating support that makes it easy to move and eliminates the "Dead Bed" feel of traditional memory foam while Biometric Gel Visco conforms to your body shape and reduces pressure points. HiPerLUX because High Performance is Luxury!  This bundle includes a FREE Tencel 5 Sided PCM Mattress Protector and a FREE set of our Ultra Soft Tencel Sheets in your choice of 3 different colors.
Tencel Biometric Stretch™ Cover – soft and cool to the touch, this stretchable breathable fabric works with comfort and supports layers to mold to your body shape helping to eliminate pressure points and reduce motion transfer.
UltraCool™ Phase Change – this coating is fused with the top layer of foam and works to absorb heat and pull it away from the body to help your core temperature drop when you first go to bed, and help you fall asleep faster.
Biometric Flex™ Firm – top layer of this revolutionary foam behaves like millions of tiny springs giving you a floating feeling making is easier to move and eliminating the "Dead Bed" feel of traditional memory foam mattresses.
Biometric Gel Visco™ – 2nd comfort and support layer of breathable open cell memory foam conforms to your body shape & reduces pressure points while improving circulation, so you get a deeper night's sleep.- this revolutionary foam behaves like millions of tiny springs giving you a floating feeling making is easier to move and eliminating the "Dead Bed" feel of traditional memory foam mattresses.
Biometric Flex™ Firm – 3rd responsive comfort and support layer, works to help your weight transition to the base layer like millions of tiny springs giving you a floating feeling making is easier to move and eliminating the "Dead Bed" feel of traditional memory foam mattresses.
The wONderful+ does exactly what a great mattress is supposed to do – offer temperature management, pressure relief, proper back support, and comfort so you get a deeper night's sleep with less tossing and turning, and more rest!  Our mattresses using the highest quality components and best manufacturing techniques to give you a mattress that will feel better longer!
HiPerLUX Mattresses are 100% made in the USA.

FREE SHIPPING ON ALL ORDERS*
When you buy direct from HiPerLUX, you will receive free ground shipping on all orders for the following products in the continental US!
· Mattresses
· Sheets
· Pillows
· Mattress Protectors
HiPerLUX mattresses are built to order and generally ship in 4-5 business days from our manufacturing facility in North Carolina via Fed Ex Ground.
Mattresses are eligible to receive White Glove Delivery in most US markets for an additional $199. White Glove Delivery is available Free when Mattresses are purchased with I-Adjust Invigorate or I-Adjust Ultimate Lumbar Bases.
Sheets, Pillows, and Mattress Protectors ship directly from supplier normally in 4-5 business days.
FREE WHITE GLOVE DELIVERY available on All Adjustable Bed Base Orders*
Do to the weight of our I-Adjust Invigorate and I-Adjust Ultimate Lumbar Bases we offer FREE White Glove Delivery of these products. Any mattress purchased at the same time as the Adjustable base will also receive FREE White Glove delivery and installation for buying the entire HiPerLUX sleep system
Adjustable Bed Bases ship directly from our I-Adjust supplier warehouse in 2-3 business days.
Schedule a Talk or Chat with a Sleep Expert. customersupport@hiperlux.com
Thank you for shopping with HiPerLUX!  We are dedicated to delivering high performance luxury sleep to you. We only offer superior products - utilizing the highest quality materials, smartest designs, and superior workmanship. We stand behind the quality of our products, so you can buy direct from HiPerLUX with confidence.  If you are not completely satisfied with your purchase, we are here to help.
Mattresses
We believe you will love your HiPerLUX mattress.  We want you to be confident you are making a wise investment, so we offer a 100 Night Sleep Trial. We recommend sleeping on your HiPerLUX for at least 30 nights to allow your body to properly adjust to the support and pressure relief benefits of a HiPerLUX mattress. If (during the first 100 nights) you don't love your new mattress, email us at customersupport@hiperlux.com .
We will work to address your concerns and help improve your sleep experience.  If we can't find a way to make you happy, we will take the mattress back, and refund your money, less shipping charges & service fee of no greater than $199.  "Gift with Purchase – Free* with Purchase" items may be returned if unopened otherwise customer will be charged 60% of the regular retail price.
To be eligible for return/exchange, your mattress must be clean and undamaged.  Mattresses used for commercial purposes are not eligible for 100 Night Sleep Trial.   Factory Outlet, Demo, Display, Clearance, and Closeout Merchandise are Excluded from the 100 Night Sleep Trial.  All sales of Factory Outlet, Demo, Display, Clearance, and Closeout Merchandise are Final.
---
I have always preferred to sleep on my side, but am a larger person, and have had difficulty finding something that could support my weight so I didn't sink too far into the mattress, while at the same time not putting excess pressure on my shoulders and hips or pushing me too far upwards.  The Wonderful mattress is the first mattress I sleep well on all night, my back seems supported, and I wake up without shoulder and hip pain.  Only have had it for 2 months but so far so good! 

- Tony P.

My wife and I each got a Twin XLs on adjustable bases and are sleeping well - so far the beds are comfortable and supportive whether we sleep on our sides or back.  Quiet sleep on the adjustable is great for side sleeping. I wouldn't call either bed soft, but they really fit and mold well to our hips and shoulders.  

- Mr. & Mrs. C

We purchased a Wonderful.  My husband has had the best sleep he has had in years. He is a side and back sleeper. I have got some relief from his snoring, as he doesn't seem to snore as badly, or sometimes not at all when he sleeps on his side now. I originally, thought it was too hard as I am only a side sleeper, but after a month, I am sleeping a lot better.

- Rebecca A.

We purchased a King Incredible+ and really like it, it is kind of plush and a little bouncy and is just super comfortable whether we are on our back or side.   After laying down for a few minutes you feel the coolness of the cooling stuff coming through.  We both are enjoying this a lot more than our first memory foam mattress we bought about 10 years ago.  The tencel sheets are also super soft and fit the bed perfectly.

- Karen and Jason H.

The best mattress we have ever owned by far!  I don't move or toss or turn almost all, and wake up feeling really good.  My wife and I finally both like our mattress, and are sleeping more soundly.  We got the bundle with the sheets and protector and a very happy with those also.

- Quentin M.

This mattress is extremely comfy with just the right amount of bounce and cushiness(I think that's a word). Definitely, the best mattress I have owned eve though admittedly, I have not owned a lot of mattresses, but it is also much nicer than the mattresses I have slept on in hotels when traveling also.

- Monica H.

For a guy that has endured chronic back pain, the Wonderful Mattress
Is just what the doctor ordered.....a nice blend of memory foam that is not too hard
But not too soft .. sleeping on the bed is great as you don't sink too far in. 
I feel great and refreshed every morning. My wife wants to sleep in every day

Also love the Tencel sheets! This summer has been hotter than normal and sheets has helped Keep it cool and comfortable. 

Since you are using your mattress essentially 1/3 of your time, the Wonderful is a wonderful investment. We would recommend to anyone 

- Keith and Nancy M

Amazing mattresses!! Firm yet soft and comfy! You don't know what a great mattress is until you lay down on one of these!

- Mike Miville

We got one of the first models and absolutely love it! Best sleep we've had in a long time!

- Ryan Benner

We know the founder, and bought one of the final prototypes along with an adjustable base.  We were looking for a firmer feeling bed with good back support and so far love the Wonderful 

- Brad & Cindy S.